Goldcity
Sophisticated, exciting, dynamic, luxurious and welcoming.
An endless array of words can be summoned to describe the modern appeal of the Goldcity
Hotel and Villa Complex with its luxurious range of accommodation and facilities, Goldcity provides you an unrivalled quality of life.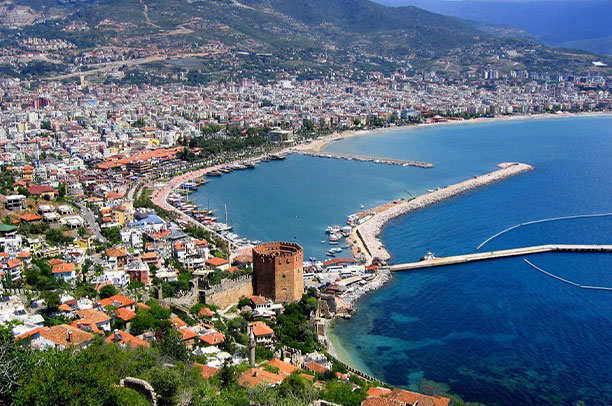 Alanya
The Pearl of the Turkish Riviera
This inviting and charming coastal city is situated in an indisputably idyllic location. The ever-stretching coastline provides water enthusiasts and sun worshippers alike with 70 km of golden beaches and turquoise seas, set against the magnificent backdrop of the Taurus mountains. Alanya also woos the visitor with its deep sense of belonging to the past. There is a huge wealth of culture to be found with many historical sights and other places of interest.
One of the most memorable aspect of a visit to Alanya is the hospitality of its people. Their genuineness and kindness are incredible, their wit and ready smiles infectious, their openness and honesty endearing. All of this can be experienced in a fabulous Mediterranean climate with an average of 320 sunny days per year.
Alanya beckons to be discovered!
The Setting Is Indisputably Idyllic..
This magnificent hotel is in an enviable location a short distance from the cosmopolitan tourist city of Alanya. It is set on a hilltop between the focal points of the mystically rugged Taurus Mountains and the blue of the Mediterranean Sea. A setting of total tranquillity, with uninterrupted panoramic views of mountains, fruit plantations, the inviting calm of turquoise waters and the unforgettable image of the fabulously carved coastline of Alanya.
A world of its own that sits on an area of 211.677 m². On the top of the hill sits the impressive luxury hotel which comprises Deluxe Rooms and Luxury Hotel Apartments / Suites. Within the hotel grounds there are clusters of beautiful villas and apartments. Goldcity is equally appealing for holidays and for residential use and we have a variety of freehold property types available for sale, including Detached Villas with private pool, Apart Villas & Penthouses or Luxury Hotel Apartments in the main building.
Goldcity is a perfect place to holiday or to invest in your own holiday home.
Real estate sales are being continued.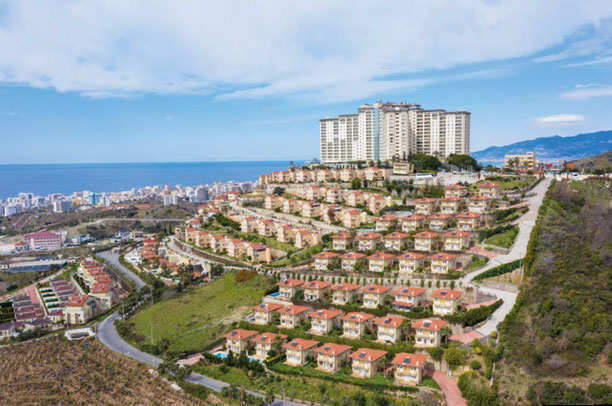 Goldcity Services & Facilities
Restaurants & Bars
Main Restaurant (Open Buffet and Lunch)
World Cuisine Themed Restaurant
Lounge Restaurant
Alaturca Restaurant
Sakura Sushi Restaurant
Cafe Turka
Nargile
Patisserie
Cinema and Meeting Hall Service Bar
Lobby Bar
Pool Bar
Snack Bar
Waterfall Bar
Zodiac Bar
Vitamin Bar
Irish Bar
Wine House
Disco and Relaxation Bar
Sport Complex
2 Football Fields with FIFA Standards
6 Tennis Courts
Volleyball and Basketball court
Fitness & Aerobics Center (Yoga, pilates etc.)
Running Track
SPA & Wellness
Turkish bath (Hammam)
Jacuzzi
Unisex Hairdresser
Sauna
Steam room
Massage Room
Shock Shower
Hot Stone Beds
Skin Care Units
Relax Bar
VIP Services
Outdoor and Indoor Swimming Pools
Main Pool and Olympic Pool
Relaxation Pool
Panoramic Heated Indoor Pool
Kiddie pool
Aquapark with 12 Large and 8 Small Slides
Private Beach & Water Sports
Beach Volleyball, Jet Ski, Banana, Parachute
Children's play area
Beach Bar
Private Parking Area
Beach Party and Animation
Free Sundeck, Umbrella and Towel Service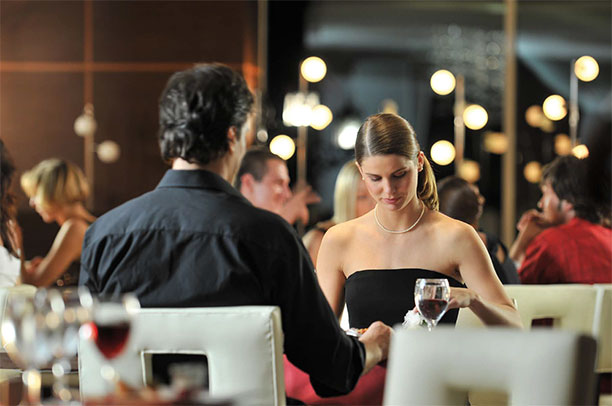 Wining & Dining
Food is an art form at Goldcity. Our award winning executive chef and his team have designed an array of menus to suit all tastes. We have many restaurants and bars where delicious foods and good service make a memorable meal. Special menus will delight the children and vegetarian selections are widely available. Connoisseurs, families and budget conscious guests will all be able to find their perfect choice.
WORLD CUISINE RESTAURANT: Enjoy international cuisine with choices from Italy, Mexico, Thailand, France and the Mediterranean's finest dishes...
A LA TURCA RESTAURANT: True authentic Turkish Cuisine... Let your taste buds explode while savouring traditional Turkish kebabs with national drink Rakı.
UP HILL LOUNGE RESTAURANT: Fine dining in a relaxing atmosphere. Experience the panoramic view of Alanya from top floor of the hotel whilst enjoying international specialities.
SAKURA RESTAURANT: More than sushi ... Perfect venue for your private group dining.
MAIN RESTAURANT: An amazing selection of breakfast, lunch and dinner in open buffet style.
BANQUET RESTAURANT: Special occasions, special memories...
LOBBY LOUNGE: 24 Hour Casual Dining.
PATISSERIE: Share the sweetest moments
POOL & BEACH BARS: Enjoy the variety of sandwiches,burgers, grills and ice creams in a beautiful setting withsea, pool and mountain views.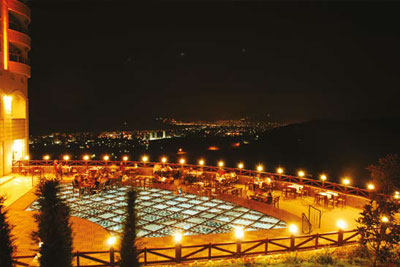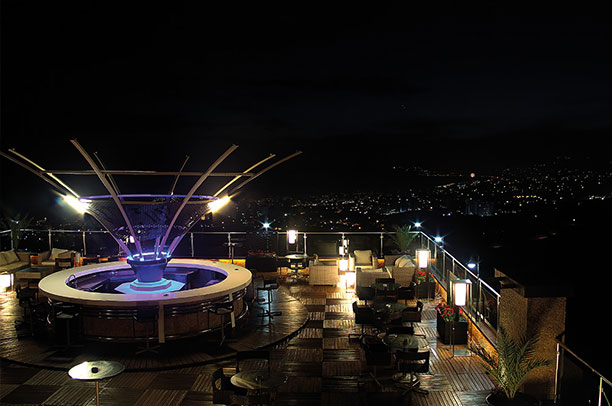 Night Life
Had a hectic day, need to meet someone or just want to sit back for a quiet drink and snack?
Well then, enjoy the relaxing atmosphere of our bars and let our servers pamper you with a fine cocktail or our traditional drink Rakı. Or why not visit our trendy Rotating Bar on the top floor and be amazed with the 360 degree spectacular view.
Pools & Aqualand
There are 121 outdoor pools around Goldcity and an indoor pool. Located between the East and South wings of the Hotel, there is a 1.200 m² pool, an Olympic length swimming pool and a Kid's pool. Between the South and West wings there is a 417 m² Relax pool that has spectacular views of the Mediterranean Sea and Alanya Castle. The 158 m² heated indoor swimming pool with 9 m² Kid's pool also has panoramic views in winter and summer.
Aqualand is located on the north side of the hotel and great fun for everyone with its 20 slides, pools and activities.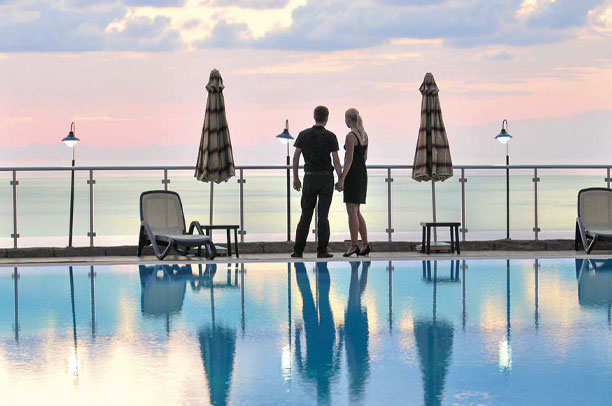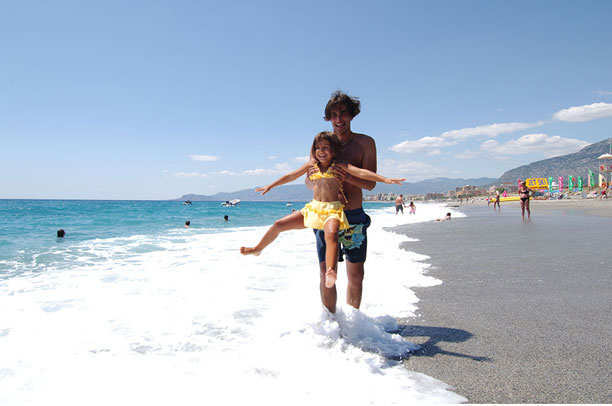 Goldcity Private Beach
GOLDCITY has a 28.000 m² Private Beach, where you can relax on our sun beds under the protection of parasols and enjoy light refreshments from the Snack Bar. Water sports are also available on the GOLDCITY beach. There is shuttle service to the beach
Sport Complex
The magnificent Goldcity Sport Complex is located 3 minutes drive to the North East of the Hotel. It extends to an area of 111.714 m² and is etched into the Taurus Mountains with spectacular views to the sea. Football pitches for professional teams, basketball, volleyball, tennis courts, running tracks, artificial lakes and sports bar are all available at the Goldcity Sport Complex.
Soccer Fields: The football pitches were designed according to international and UEFA specifications and are laid with "natural English grass".
Open Basketball Field: Surrounded by fence, acrylic hard grounded, professional lighting, glass made baskets, 18*36 sized standard fields.
Open Volleyball Fields: Acrylic based ground, surrounded by fence, professional lighting, 18*36 sized standard volleyball field.
Tennis Courts: 4 Tennis Courts, artificial grass covered, 18*36 size. 2 Tennis Courts, acrylic based hard ground, 18*36 sizes
Training - Running / Jogging Track: The running lanes are on the outer perimeter of the football pitch. The track is 3 m wide (starting from outer rim) and 390 m long.
Professional Body Building Centre: In Goldcity's main building located on the -2 floor, our Professional Fitness Centre with an area of 830 m² has been established for all Professional athletes including Football and Rubgy teams to carry out preparatory work using our specialized technical equipment.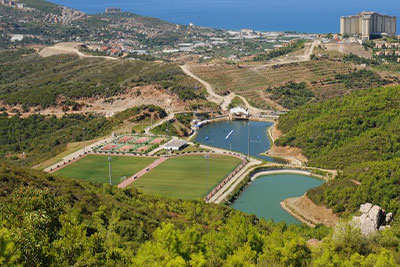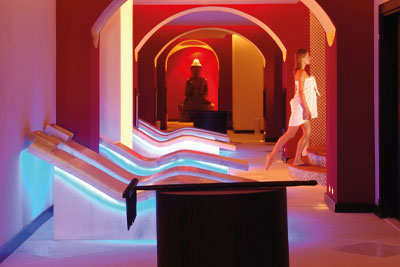 Goldcity SPA & Wellness
Indulge yourself in our state of the art SPA encompassing 3.500 sqm. All of your needs will be satisfied here whether it is a relaxing massage, a soothing facial, a specific body treatment or a traditional Turkish bath. For those who are keen to keep fit, you will find the latest equipment and training programs. Come and experience the difference...